12 Bar Events & Bar Promotions You Can Implement Now
Bars need to keep trying new bar promotions and running new bar events just in order to stay competitive these days.  And lets face it, its not an easy task putting on bar events and coming up with new bar promotions every month.
That's why we jotted down some of the ideas that have worked well for us in the past.
These 12 bar events, ideas and bar promotions will help you add a little spice to your bar while attracting more customers and bigger profits.
Not all the bar events and promos listed below will work for every bar or club.  Food promos, for example, may work well at a pub but may not work so well at a club.
Take away what you can from the ideas listed below.  Implement the ones that you think will work well for your establishment and change others around so they fit well with your crowd.
You may notice that a couple of the bar promotions ideas focus on food.  This is because laws are making it extremely hard to offer discounted liquor in many parts of the world (Canada,for example, has very strict alcohol laws).
12 Bar Event and Bar Promotion Ideas to Boost Your Bottom Line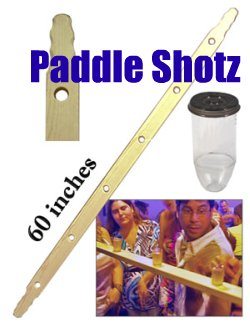 1. Shooter Paddles
Whether you make them yourself (wood about 1/2 inch thick and 3-6 feet long, drill some holes, paint your logo on it and offer 6, 8, 10 or 12 shot  paddles) or buy them online, shooter paddles are a great way to entertain customers and bring in bigger profits.  If you're not the handyman type or just want something a little more professionally made, you can purchase Paddle Shotz through our online store.
2. Festive Cocktails
Every time there is a holiday or event of some sort,  Halloween, Christmas, St. Paddy's Day, SuperBowl etc, create signature cocktails for the event.  Find Cocktail Recipe Ideas Here
3. Food & Drink Combos
Try tying in all your food specials to drinks. I.e.-  get $0.20 Tacos when you order a pitcher of beer, $0.15 Wings with the  purchase of a pint of beer, $3 salad with the purchase of a cocktail etc
4. Food Happy Hour
Instead of discounting alcohol, try discounting some  apps for Happy Hour and pairing food items with drink specials.
5. Pairing Food with Sports Specials
Any time you show a big  sporting event, entice people to come with food and drink specials. Eg. Enjoy  $5 personal pizzas during UFC, $0.15 wings during football games
6. Shooter of the Day
Create a new shooter recipe every day and promote it as the "Shooter of the Day".   As with the beers of the world promotion below, you can give out cards to encourage repeat customers.. Find lots of Shooter Recipes Ideas Here
7. Beers of the World Promotion
If you serve a bunch of different beers from different areas of the world, you can do an around the world promo where people get a card punched each time they try a new beer and get a prize for trying, say, 10 of them.
8. Animal Sports Races
If you show sporting events, get your customers in on the excitement of watching their favorite teams race.
You can use Hermit Crabs or  turtles, have their shells painted each teams' colors and a little arena set up for them to race in. Race them before the game – the winner of the race is the predicted winner of the game.
9. Sponsoring Teams
Find local sports teams and offer to sponsor them by  paying for their jerseys (which would have your bar name on it) if they agree to meet at your bar after each of their games.  Include some type of food and drink specials to keep the group happy.  Often, these teams come back on their off days..with friends.  All new customers for you.
10. Sports Pools
Run football, hockey or basketball pools at your bar to  bring in a solid group of regulars who come in to watch the games and check their stats.  If you don't want to involve money, have daily prizes of food and drinks and a couple of overall prizes like promo items from your bars' beer and alcohol reps, dinners for two, Super VIP passes, a trip somewhere, your customer's own nameplate on the bar etc.  Be creative here and make it something that you yourself would come back again and again to try and win.
11. Shooter Luge
During a special event, try something a little different – an ice shooter luge. Shooter luges  can be made in any shape and, in addition to being cool, they actually are…well…cool – they chill the shot on the way through the ice before coming out the bottom.  You can buy the reusable mould used to make the luge on the left by visiting our Bar Store or you can look for a local ice sculptor in your area (they do exist).
12.  Jello Shot Syringes
You can learn how to make jello shot syringes and find jello shot recipes here.
Jello Shot Syringes are excellent for your bottom line because they are  typically cheaper to make than regular shots and its a novelty so people come back to try your different flavours every week. To purchase Jello Shot Injectors for your next party, order them online here.
There are literally hundreds of different bar promotions / bar events that you can run in your establishment to bring in more customers and revenues.  Follow the links below for some more bar events and be sure to leave a comment if you know of some cool bar promotions to share with our readers.
Cheers!