St Patricks Day Activities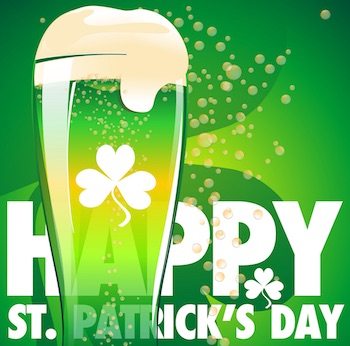 St Patricks Day Activities
to Bring Em In and Keep Em There This St Paddy's Day
St Patricks Day activities are essential no matter what type of St Paddy's Day party you're planning.  If you want your bar to be in on the Paddy's Day crowd, you'll need to do more than just add a couple drops of green food coloring to your beer.
Below is a St Patricks Day poster for an event from a couple years back.  Take a good look at the poster to get ideas for not just St Patricks Day drink recipes but also food and entertainment specials.
As you can see from the St Paddy's Day poster, in addition to food and drink specials, we had lots for people to do as well.  Since the party usually gets started during the afternoon on St. Patricks Day, you'll need to make sure that there is enough entertainment to keep your patrons from straying elsewhere.
One of the things you can do to get people through your doors is to reward them for coming.  Here are a couple of ways you can do this:
Trade in your Ticket for a Free Jello Shot – since we were using smaller versions of the poster as handouts and tickets for the event (it was free to get in), we wanted people to hold on to the ticket so that they could compare what we had happening at our place to whatever else was going on in the city (knowing, of course, that you're putting on the best St Patty's Day event in town), leading up to P-day.
Wear Green for a free Jello Shot – whether it's a shooter, cocktail, mixed drink or appetizer, give something away to patrons who get into the festive spirit and wear green to your event.  These are the people you want at your bar so give them a reason to dress up and reward them for it.
Ok, now that you have people through your doors, let's look at some St Patricks Day activities you can incorporate into your St Patty's Day events.
Irish Music – One of the first things your patrons are going to notice about your St Patricks Day event is the music.  It's an Irish holiday so make sure you have Irish tunes playing.  Make sure you stick to the more upbeat, drinking song type music.
Face Painting – We're not talking about unicorns and ice cream cones here.  Have one of your bar staff paint shamrocks on people's faces.  If you have someone artistic on staff, you can have get a little more creative.  Since face painting crayons aren't very expensive, you can even take this a step further and put a green face paint crayon on every other table so that your customers could draw on their friends' faces.
Create a Limerick – This adds a nice break in the middle of what will turn out to be a very long night.  Throughout the day as people come and go, have them submit a Limerick about St Patricks Day.  Print out the definition of a Limerick on a piece of paper with blank lines for the Limerick itself and hand them out to people as they come in.  Guests can make up their own Limerick and later in the evening you can read the best ones out to the crowd and choose a winner based on applause.
Balloon Drop – Since I had worked out a deal with a travel agency in advance, I was able to get free tickets to Las Vegas as the main giveaway for the event.  To make the giveaway more entertaining, we decided to do a balloon drop where people had to burst balloons and find out which ones contained prizes (simply pieces of paper stating what the prize is).  Prizes consisted of free drinks, appetizers, "skip the line" passes for Fri/Sat nights, beer gear etc.
Jello Syringes – Although jello shots and jello syringes may seem more like St Patricks Day drinks rather than St Patty's Day activities, the reality is that doing jello shots IS entertainment and therefore qualifies as an activity – especially doing jello shot syringes.  Jello shots are cheaper than regular shots and a lot more fun for your guests to do.  But you do have to prepare them in advance.  Make sure you check out how to make jello shots and for a tasty green jello shot recipe, take a look at the Liquid Marijuana jello shot recipe at the bottom of the page.
Although this next point, staff involvement, is not a St Patricks Day activity per se, it's of the utmost importance that your staff are on board with the promotion.
There's nothing worse than getting dressed up for St Patty's Day and getting to the bar only to find out that, not only are you the only guest that's dressed up but none of the bar staff are in costume either.
Much of the success of your event has to do with how committed the venue and staff are to the event.  Make sure your staff all wear green and are pushing the event weeks prior.
St Patricks Day comes but once a year.  But when it does, watch out! It can be one of the busiest days of the year for many bars, pubs and clubs.  Make sure that you're prepared, have enough stock and your staff know the food and drink specials as well as what the entertainment is for the day.
If you're still looking for more St. Patty's Day fun, check out our Saint Patrick's Day Trivia Page and our St. Paddy's Day Drinks Page.
If you know of any other great St Patricks Day activities, please share them with our readers by leaving a comment below.
[arve url="https://www.youtube.com/embed/8jqdl_pNnqE?rel=0&controls=0&showinfo=0″ title="St Patrick's Day Bar Promotions" description="Check out this edition of Bar Owner TV where it's all about St Patty's Day Activities and Marketing Promotions" /]