Cosmopolitan Drink Recipe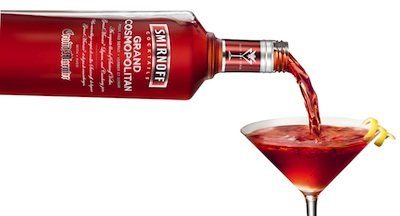 Cosmopolitan Drink Recipe
The Sex in the City of martinis – In this bartending basics video tutorial, Reese Richards shows you how to make a cosmo martini
Cosmopolitan Drink Recipe (Cosmo)
What you'll need: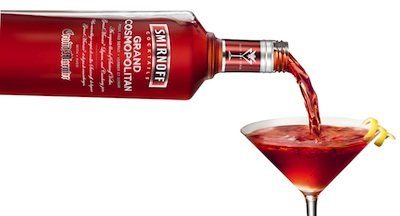 Vodka
Triple Sec
Cranberry Juice
Lime bar mix (sour mix)
Shaker (CLICK HERE if you're looking for shakers)
Mixing glass (CLICK HERE to see mixing glasses in our barstore)
Martini glass (CLICK HERE if you want to buy martini glass)
Jigger or shot glass (CLICK HERE to see shot glasses in our barstore)
Lime slice or wedge
What you do:
Step 1

Fill your shaker ¾ full of ice

Step 2

Pour ice from shaker into martini glass – enough to fill the glass

Step 3
Step 4

Pour 1.5oz of vodka and 0.5oz of triple sec into the shaker glass

Step 5

Add 1.5oz of cranberry juice and .5oz of lime bar mix to the shaker (which still contains the leftover ice)

Step 6

With your mixing glass tightly in place, shake the shaker 3 times over your shoulder

Step 7

Dump out the ice water from the martini glass

Step 8

Holding onto the the shaker tin in one hand and the mixing glass in the other, strain the contents from the shaker (being careful not to let any ice spill out)into now chilled martini glass

Step 9

Garnish with your choice of a lime wedge, lime slice, lime twist, orange slice or cherry

Step 10

Serve or drink your cosmopolitan yourself 🙂
We also have Video Tutorials on how to make popular drink recipes like the White Russian, Blue Hawaiian, Kamikaze, Hurricane, and the Bloody Caesar.
[Video Transcript]Cosmopolitan Drink Recipe Video Tutorial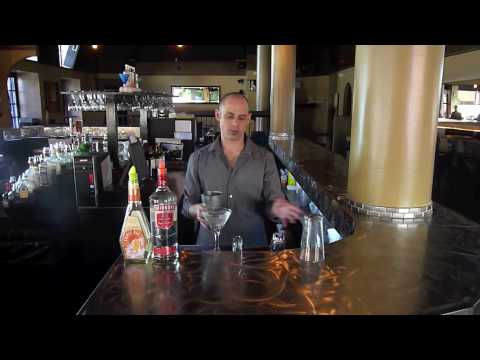 Today, we're going to talk about "How to make a Martini" and in particular, a cosmopolitan or cosmo martini. We have all our ingredients here for our cosmo. We have triple sec, we have vodka, nice clean martini glass(ok, and xxx to hold this up into the light to make sure that there's no or it's not dirty, there's no lipstick that can get attached to the side of the glass and it doesn't come off very easy in a dish washer. So make sure your glass is clean, very important to start), you make your measuring shot glass(it kind xxx xxx standard ounce), you're shaking tin and you're mixing glass here. Ok, obviously needs some ice as well. And on the gun, i have my cranberry and my lime bar mix. Ok, so two alcohols( triple sec, vodka), the mix is cranberry and lime bar mix. OK. We'll gonna start.. this was a little trick that i like to do with martinis. First is chill the glass. Some people just chill the glass with just ice. But you want to put water and ice in it because it chills the glass a lot faster. So instead of dipping the glass and these ones will break if you dip it in into the ice. We have a metal tin, so i'm gonna fill up maybe 3 quarters the way up with ice, then fill the glass from it and then i'm gonna add some water from my gun. OK. While that's chilling with the rest of the ice in here, now i'm going to make my drink. So i have my shot glass, it's going to be 1 1/2 ounces of vodka. So, one…and a half, and it's going to be half ounce of triple sec. So fill this up…cut and turn. And the mix is twice as much cranberry as lime bar mix, so margarita base, right? So, i might wanna go for one xxx xxx on a cran. The gun is put together properly. So one second on the cran and then half a second on a lime bar mix. When my glass is in place, make sure it's tight in there. You don't want any liquid coming out. I wanna pour the contents of the cold water. Ok, you can see how the glass is chilled now. OK. And you want to shake this, i don't want to go crazy and shake it 15 times. Three solid shakes should be enough for any drink, any mixed drink. So 3 strong shakes, you gonna hold on the glass here, hold on the glass on the base and shake it over your shoulder 3 times. Ok, crack(split tin and glass) the glass by pushing against it. Empty the contents; careful not to get any ice in there. OK. And then for a garnish, you can use your choice. We use cherries here and sometimes we use lime slices. So you can just put the cherry in, you can stab the cherry with a sword and put it on the side. And for your lime, instead of cutting in the middle, i mean you already have it probably cut but if you want to cut specific ones for martini is you can cut it on the side like this. Ok, so here's a cosmopolitan martini. It should be a pinkish hue and you can garnish it any way you like. Enjoy your cosmopolitan.