How To Make Jello Shots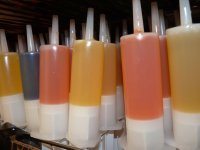 How to Make Jello Shots and Jello Syringes
Learning how to make jello shots is not a difficult process. But it is one that needs to be done properly else the jello doesn't set right.
Things to keep in mind when making jello shots:
For each package of jello, you will need to combine 8oz (1 cup / approx 240ml) of boiling liquid with 8oz of cold liquid. The hotter the first 8oz and the colder the second 8oz, the better the result.
For the purpose of this jello shot making tutorial, I'll lay out the step-by-step process of how to make jello shots using one package of jello. You can double or triple the recipe as needed. I personally like to mix up 3 packages of jello at a time.
Package of jello
Alcohol of choice
Measuring device (shot glass, measuring cups, etc)
Water (boiling and cold)
Ice
Pitcher or other container
Shaker or large glass
Stirring spoon (CLICK HERE to see this product in our barstore)
Step-by-Step of Making Jello Shots
Boil some water
Empty contents of jello package into the pitcher.
Pour in 8 ounces of boiling hot water and then stir until all the crystals are dissolved.
Fill your shaker or glass ¼ of the way full of ice.
Pour 8 ounces of whichever alcohol you've chosen to use into the glass of ice.
Now dump all the contents of the glass into the hot jello mixture in the pitcher and mix it gently until it reaches room temperature.
Pour into jello shot cups or suck up the jello goodness into syringes, put them in the fridge and let them set for approximately 2 hours.
Click Here to proceed to the How to Make Jello Shots Video Tutorial
Tips on Making Jello Shots
The more dense the alcohol you use, the harder it is for the mixture to set properly. So, if you are going to use liqueurs like Crème de Cacao, balance it out by using half vodka.
Do not add milk or any milk product (including Irish cream) as it curdles when you combine it with hot water. There are ways around this but there are so many different combinations of jello shots so why bother.