How To Make Healthy Cocktails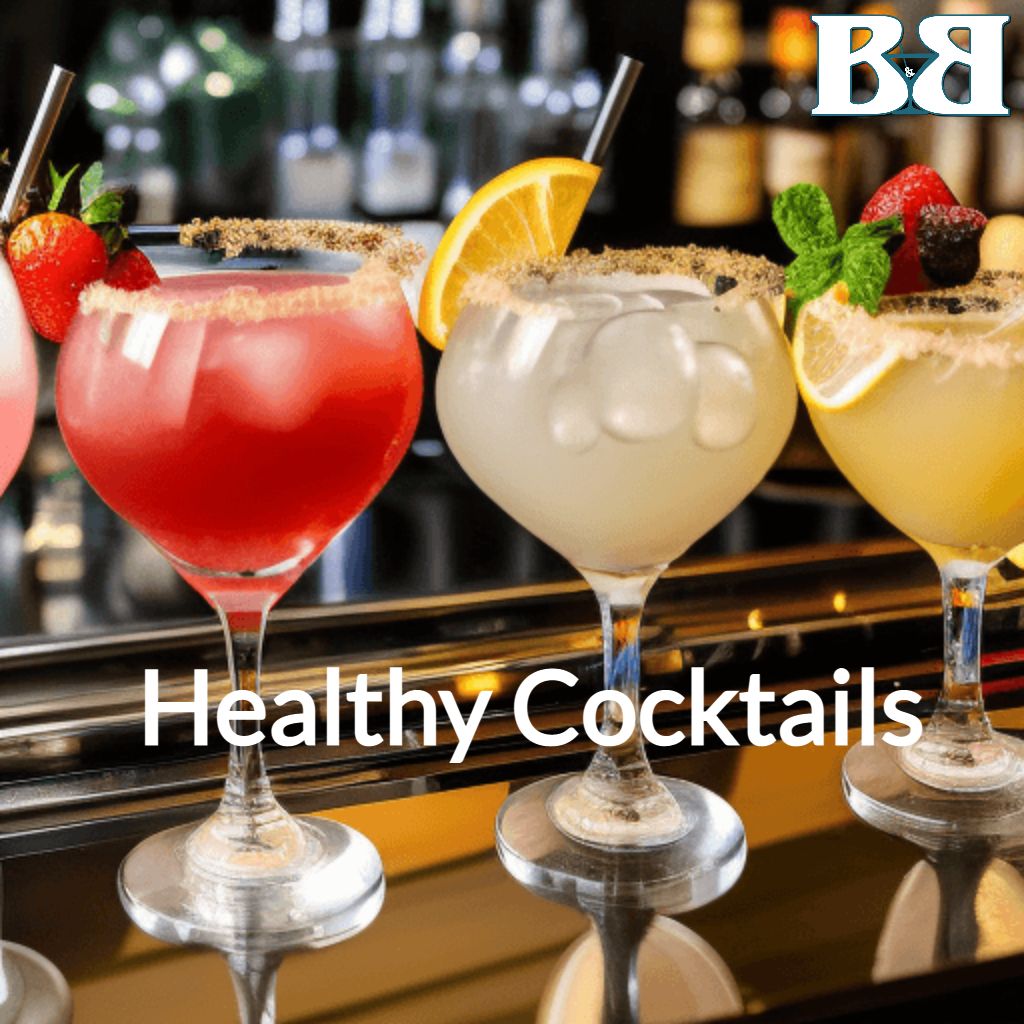 Healthy Alcoholic Drinks: Recipes, Tips & Tricks
Do you want to make delicious, healthy cocktails? Whether it's for a party or just an evening drink with friends, many of us enjoy a good cocktail. But unfortunately, many of the cocktails we love can be loaded with sugar and calories. Thankfully, making healthy cocktails is easier than you think! In this article, we will provide step-by-step instructions on how to make tasty and nutritious drinks that everyone can enjoy.
So, what makes a cocktail healthy? It all comes down to the ingredients. We'll show you how to substitute healthier ingredients while keeping the signature flavour of your favourite drinks. You don't need expensive or hard-to-find ingredients either; these recipes can all be made using common kitchen staples. And if you're looking for non-alcoholic options, we've got you covered too!
No matter what kind of cocktail you like – fruity or zesty, sweet or sour – there's a way to make it better for your health without sacrificing taste. So, let's get started! Keep reading to learn all about creating delicious and nutritious healthy cocktails.
Identifying Healthy Ingredients
When it comes to making healthy cocktails, identifying the right ingredients is key. Finding a balance between tasty and nourishing can be tricky, but with a few tips, anyone can craft a delicious and wholesome drink.
First off, it's important to understand what makes an ingredient healthy. Fresh fruits and vegetables are good choices as they provide vitamins and minerals that are essential for health. Herbs like mint or basil can also add flavour while providing antioxidants that help protect against disease.
Additionally, swapping out sugary syrups for natural sweeteners like agave or honey helps to limit excess sugar intake.
Finally, moderation is essential when mixing drinks. Avoid adding too much alcohol and opt for lower-calorie mixers like club soda or sparkling water instead of regular soda or fruit juice. This way you can still enjoy your favourite cocktail without overdoing the unhealthy elements. Plus, there are plenty of recipes you can use to get creative with the flavours you choose!
Planning The Cocktail Menu
When planning the cocktail menu, it's important to consider the health benefits of each ingredient. Consider whether certain ingredients are more nutritious than others and if some could be substituted for healthier alternatives.
Think about how you can combine unique flavours. This is where creativity comes in! Experiment with different combinations of herbs and spices to create a unique flavour profile that will tantalize your guests' taste buds. Try adding fresh fruits or vegetables like apples and carrots to create a balanced cocktail that's healthy and flavorful.
Once you have your ingredients selected and recipes planned out, you can start making your cocktails! Keep in mind that it may take several tries before you get the perfect balance of sweetness, tartness, and other flavours in your nutritious cocktails. Have fun with it – just remember to keep it healthy!
Understanding Alcohol Content
Make sure you understand the alcohol content in each of your ingredients when creating your healthy cocktails. Not only will it help you determine the amount of each ingredient you need, but it can also give you an idea of how strong each drink will be. Let's take a closer look at how to understand this information:
Look for ABV (Alcohol by Volume) on labels – This is usually expressed as a percentage and gives you an idea of how much of the drink is pure alcohol. 40% is pretty much the standard for you bar rails such as vodka, gin, rum etc.
Check out the proof – This is another way to measure alcohol content, and is equal to double the ABV. i.e. the 40% vodka mentioned above is 80 proof.
Consider calorie count – Alcohol contains calories, so keep an eye on this number when selecting your ingredients.
Know your serving size – Understanding how much alcohol per serving is in your drinks will help you adjust other ingredients accordingly. You can easily reduce the amount of alcohol in your cocktail by 1/4 and hardly notice the difference. Therefore, instead of adding 1oz to a drink, try 3/4oz instead.
Be aware of sugar content – The higher the sugar content, the more calories per drink, so opt for low-sugar alternatives where possible.
When planning healthy cocktails, having a good understanding of all these numbers can make sure that you create drinks that are both tasty and nutritious. It's also important to consider other nutritional values such as vitamins and minerals when selecting ingredients. With careful planning, you can create delicious cocktails that won't derail your health goals!
Selecting Mixers and Juices
When it comes to making healthy cocktails, one of the most important steps is selecting the right mixers and juices. It's essential to understand what kind of alcohol you're working with to create healthy and balanced drinks. To that end, there are a few things worth considering.
Firstly, use fresh juices instead of pre-made mixes whenever possible. These store-bought mixes can be high in sugar and contain preservatives or artificial ingredients. For a more health-conscious choice, opt for natural juices like orange juice or apple juice. Freshly squeezed lemon or lime juice can also help balance out heavy alcoholic flavours and provide some vitamins and minerals.
It's also a clever idea to choose low-calorie mixers such as soda water / club soda instead of sugary sodas like cola or lemonade. You can also experiment with herbal teas, fruit syrups, and other flavorful non-alcoholic additions that will give your cocktail an interesting twist without adding too many calories or sugar.
Incorporating Fruits and Vegetables
Adding fruits and vegetables to your cocktails is a wonderful way to make them healthier. Not only do these ingredients add flavour, but they also provide essential vitamins, minerals, and fibre. Plus, they can make your drinks look more attractive too!
Using fresh fruits and vegetables in your cocktails gives them a natural sweetness that doesn't require added sugars.
For example, adding strawberries or blueberries to a daiquiri gives it a sweet-tart taste without the need for added sugar syrups. You could also use cucumber slices for a gin and tonic for an extra boost of flavour and nutrients.
If you're looking for something non-alcoholic, you can still incorporate healthy ingredients like spinach or kale into smoothies or juices.
You can even freeze fruit slices to use as ice cubes in sparkling water or other beverages – so not only will you get added vitamins and minerals from the fruit, but you can also avoid watered-down drinks!
Balancing Flavours
When making healthy cocktails, balancing flavours is a crucial step. To add complexity and depth, try combining sweet and sour elements. For instance, use tart citrus juice to cut through a sweeter base liquor like vodka. Additionally, adding herbs or spices can give the drink a unique flavour profile. Think about using ginger for a spicy kick or lavender for a floral note.
Once you have the basics down, experiment with different flavour combinations to find something that suits your taste buds. Don't be afraid to mix up bold flavours – mixing pineapple juice with jalapeno might seem strange, but if it's done right, it can be surprisingly delicious! You'll also want to consider the balance between alcoholic and non-alcoholic ingredients in your cocktail – too much of either could throw off the perfect blend of flavours.
With some trial and error, you should be able to concoct a tasty and healthy cocktail that everyone will enjoy. So, get creative and have fun with it!
5 Healthy Cocktail Recipes
Skinny Margarita:
2 oz silver tequila
1 oz fresh lime juice
1 oz fresh orange juice
1/2 oz agave nectar
Salt for rim (optional)
To make the cocktail healthier, we are swapping out the usual margarita mix, which is high in sugar, with fresh juices and agave nectar, which is a natural sweetener. The result is a lower calorie, lower sugar cocktail that's just as tasty.
Green Bloody Mary:
2 oz vodka
4 oz green juice (spinach, kale, celery, cucumber, parsley, and lemon)
1 dash of hot sauce
1 dash of Worcestershire sauce
Salt and pepper to taste
Optional garnishes: celery stalk, cherry tomatoes, olives
This healthy twist on a classic Bloody Mary replaces the tomato juice with a nutrient-rich green juice. The result is a cocktail that's packed with vitamins and minerals.
Gin and Tonic with a Twist:
2 oz gin
4 oz low-sugar tonic water
1 oz fresh grapefruit juice
Fresh thyme
Grapefruit peel for garnish
This healthy twist on a classic gin and tonic swaps out the usual high-sugar tonic water for a low-sugar version. The addition of fresh grapefruit juice gives it a zesty, citrusy flavor, while the use of fresh thyme adds an herbal note. The result is a refreshing, lower calorie, and lower sugar cocktail that you can feel good about enjoying.
Spicy Cucumber Mojito:
2 oz white rum
1 oz fresh lime juice
1/2 oz agave nectar
1/4 cucumber, sliced
1 small jalapeño, sliced
Club soda
Fresh mint
This healthy twist on a classic mojito adds slices of cucumber and jalapeño for a refreshing, spicy flavor. The agave nectar is a healthier alternative to simple syrup, and the use of club soda instead of soda water or lemon-lime soda helps keep the sugar content low.
Spiced Apple Cider Sangria:
1 bottle red wine
4 cups fresh apple cider
1/4 cup brandy
1/4 cup triple sec
2 apples, chopped
1 orange, sliced
1 cinnamon stick
1 tsp whole cloves
1 tsp whole allspice
This healthy twist on a classic sangria recipe is perfect for fall. Instead of adding sugar, we're using fresh apple cider as a natural sweetener. The cinnamon, cloves, and allspice add a warming, spiced flavor to the drink.
Crafting The Perfect Cocktail
Here are some tips to keep in mind:
1. Start with a low-calorie base like seltzer or club soda.
2. Add fresh fruit and herbs for flavour and nutrients.
3. Limit sweeteners like honey and agave nectar and use as little as possible.
When it comes to creating a unique beverage, there are endless possibilities! Consider combining a few ingredients you wouldn't normally think of putting together, such as pomegranate juice with basil and lime juice. Adding in some interesting flavours can help make your cocktail stand out from the rest. Don't be afraid to try something new – it could be just the thing that makes your concoction extra special! And don't forget to garnish your cocktails with edible flowers or herbs for an eye-catching presentation. With these tips in mind, you'll be sure to craft the perfect healthy cocktail for any occasion!
Healthy Cocktails: Frequently Asked Questions
How Do I Know If a Cocktail Is Healthy?
Making cocktails can be a fun way to enjoy yourself and relax, but it's important to make sure that what you're drinking is healthy. When it comes to cocktails, you may find yourself wondering how to tell if the drink is healthy or not.
The first thing to consider when assessing the health of a cocktail is the ingredients. Look for drinks with ingredients like fresh fruit juice, herbs, and natural sweeteners instead of those made with sugary syrups or artificially flavoured mixers. Reducing the amount of alcohol in a cocktail also helps to make it more healthful.
You should also pay attention to portion size when deciding if a cocktail is healthy or not. A large glass full of a sugary drink won't do your body any favours, so try making smaller drinks with fewer unhealthy ingredients. Choosing sparkling water instead of soda and adding extra garnishes like lemon or lime wedges can help you create healthier cocktails without sacrificing flavour.
There's no single answer when it comes to how healthy a cocktail is; it all depends on the individual ingredients and how much of each one goes into the glass. Taking steps to limit sugar, alcohol, and other unhealthy components while emphasizing fresh fruit juices and low-alcohol spirits will help ensure your drinks are as healthful as possible.
Are There Any Lower-Calorie Alcohol Options?
When it comes to cocktails, it's important to consider the calorie content. If you're looking to make a healthier cocktail, you'll want to pay attention to the types of alcohol you use. Fortunately, there are several lower-calorie options that can help you make a more nutritious drink.
Vodka is one of the most popular alcohol choices for cocktails because of its neutral taste and how easy it is to mix with other ingredients. It's also lower in calories than other spirits such as whiskey, so it's a good option if you're trying to watch your calorie intake. Gin is another spirit that has fewer calories than some of the heavier liquors like whiskey or brandy.
When mixed with tonic water or light juices, these spirits can be used to create flavorful drinks with fewer calories than traditional cocktails.
Are There Any Good Non-Alcoholic Alternatives?
When looking for a lower-calorie or non-alcoholic alternative to create a healthy cocktail, there are plenty of options. It's important to consider the type of flavour and style of drink you're looking for when selecting an ingredient.
Non-alcoholic alternatives can be found in many forms, including juices, syrups, sodas, herbal teas, and more. Juices like cranberry and grapefruit provide subtle sweetness that can be balanced with other ingredients like sparkling water or tonic. Syrups such as honey syrup or simple syrup offer a variety of flavours. Additionally, sodas such as root beer and ginger beer can bring out the sweetness in various fruits. Herbal teas like chamomile and jasmine are also great additions; they add complexity and warmth to drinks without any alcohol content.
Are There Any Health Benefits to Drinking Cocktails?
It's no secret that cocktails can be a fun and festive way to socialize, but is there any health benefit to drinking them? The answer is a bit of yes and no. While it's important to enjoy drinks responsibly, there are some potential health benefits associated with certain types of cocktails….as long as you don't put too much alcohol in them.
Cocktails made with fresh fruit and vegetables can provide essential vitamins and minerals. For example, a cocktail that contains orange juice or muddled berries could add Vitamin C to your diet. Additionally, many cocktails include raw ingredients like ginger or herbs which offer antioxidants and other compounds that can help improve overall health.
However, moderation is key when it comes to drinking cocktails; too much alcohol can lead to dehydration and other negative health outcomes. To maximize the potential health benefits of consuming alcoholic beverages in moderation, consider opting for low-sugar options that contain natural ingredients whenever possible. That way you can enjoy an occasional cocktail while still taking care of your body.
How Much Alcohol Should I Include in My Cocktail?
When making a healthy cocktail, it's important to consider the quantity of alcohol you include. Too much can contribute to unhealthy habits, and too little could cause your drink to lack flavour. So, how much should you use?
The amount of alcohol in a cocktail will depend on the type and size of the drink. Generally speaking, 1.5 ounces of liquor is the recommended serving size for most cocktails but you could easily make that a 1oz cocktail and still end up with a healthy and tasty drink.
Closing Time
If you want to make a healthier cocktail, there are a few simple steps you can take. Firstly, consider opting for lower-calorie alcohol options like vodka with soda water and fresh lime juice. If you don't want to consume alcohol, try experimenting with non-alcoholic alternatives such as fruit juices, herbal teas and ginger beer. Secondly, be mindful of how much alcohol you include in your cocktails – and remember it's best to stick within the recommended limits of one to two standard drinks per day. Finally, although there are no vast health benefits associated with drinking cocktails, they can still be enjoyed responsibly in moderation. With a bit of creativity and experimentation, you can create delicious and healthy cocktails that everyone can enjoy!