Drink A Palooza Board Drinking Game: The Ultimate in Fun Drinking Games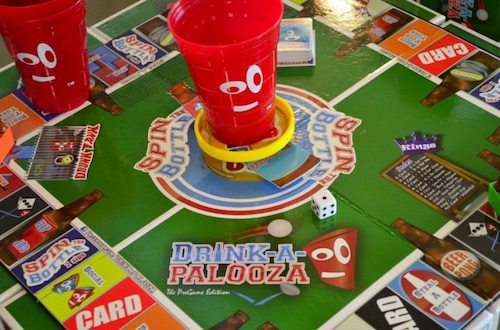 Drink-A-Palooza – An All in One Drinking Game
The all in one drinking game Drink A Palooza combines some old school drinking games with some new school ones.
Click to buy Drink-a-Palooza on Amazon.
[VIDEO TRANSCRIPT] Playing the Board Drinking Game Drink a Palooza
Uhmm, here we are on Christmas Eve and we're gonna sit down and play this game called "Drink A Palooza." Alright, so Drink A Palooza is kind of a 5 drinking games in 1 and once you get into the instructions and you just setup your little cup here on top with a little spinner, you empty out these little cases. The object is you actually fill up the cases with beer. Okay, the quick start is really just there is a quick start, right?
Set it up like that and just go. So you have a reference on the other side for every square needs around the board; so there's reference on the card. 2nd person, "So there's spicy nuts in here huh, heh" 3rd person, "Hmm waterfall."
Reese, "Those spicy nuts are horrible."  "Lovely." 3rd person, "I think they're great." Reese, "You like?" 3rd person, "I like my nuts a bit spicy. Hehe!"I'm not gonna laugh." 2nd person, "There's nothing worst than a blind nut. I'll tell you that." Reese, "We haven't finished reviewing it yet." 2nd person, "That's how good this game is, you want to buy it before it's even got started."What? I got 6. Oh no, spin the bottle 26." "Spin the bottle. Oh me!" "Blue. You get a card." 2nd person, "Card." 4th person, "It's a number six." 2nd person, "When you land on this base, you draw a card from the deck. If the color of the card matches the color of the base you're on, then you pass out the amount of sips listed on the card. If the card you choose is not the same color, you will consume the amount of sips yourself." Reese, "Oh…you're lucky there right?" 2nd person, "The amount of sips can be divided at between multiple players. We gonna pour into the drink cup. BOOM!" 3rd person, "One, Two, Three, Four, Waterfall!" Everyone, "Waterfall!" Alright, here we go. 4th person, "Okay, that was good." 3rd person, "WOOOHH!! Empty." 2nd person, "Alright, girl!"