Pub Quiz Night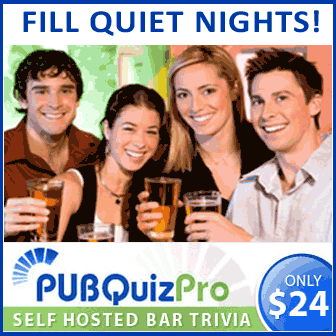 How to Run a Pub Quiz Night to Increase Profits and Customer Loyalty
You've probably already been to a pub trivia or pub quiz night somewhere before. And you may have even thought about running a weekly bar trivia night at your own bar. But then you started researching and gathering all the questions and answer sheets, writing the rules, finding the prizes and then it hit you….you'll have to do all that work each and every week. And the more popular it gets, the more work for you.
And then you decided not to host a pub quiz night.
While that's mostly true – running a weekly pub trivia night does take quite a bit of time to organize – there's no denying the success that these nights have.
Team events always seem to have more success than single events. Maybe its the competition factor, maybe its that everyone's counting on you to show up or maybe its because of the camaraderie it produces. Whatever the reason, pub trivia nights turn quiet nights into profitable nights.
If you'd like to increase revenues on one of your slower nights but don't know how to run one, we teach you how to go about it on our Bar Trivia Night page.
And if you're too busy to (or just don't want to) do the research each and every week to organize your own bar trivia night, you can purchase everything you need for less than $25 / week from a company called Pub Quiz Pro
Either way you look at it, bar trivia nights are excellent ways to increase profits on your slower weekday nights.
If you don't happen to own or manage a bar, mention this idea to your boss. Bosses give the best shifts to the bartenders who are looking out for the establishment first.