Jello Shots, Jello Shot Recipes
and Jello Shot Syringes
Thee LIFE OF THE PARTY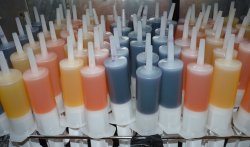 See more on jello shots like a more detailed explanation on
how to make jello shots, a Video tutorial,
and our favorite jello shot recipes.
Here's a generic How To Make Jello Shots / Jello Syringes
What you do:
Step 1

Pour 8oz of chosen alcohol into the shaker glass (containing the ice)

Step 2

Pour the contents of the jello into the empty pitcher and add 8 ounces (1 cup) of boiling water and stir until dissolved

Step 3

Pour the chilled alcohol – ice and all – into the pitcher and stir until all the ice is melted and the mixture gets to room temperature

Step 4

Pour into jello shot cups or suck up that jello goodness with jello shot syringes

Step 5

Transfer the jello shots or jello syringes to the fridge and let them stand for approximately 2 hours before enjoying
Each package makes approximately 16 ounces or
16 – 1oz cups of jello. Double or triple recipe as needed.
---
Tried, tested and tasty


JELLO SHOT RECIPES
JELLO SYRINGE RECIPES

PORN STAR
4 ounces (1/2 cup) of Blue Curacao
4 ounces of Raspberry Sourpuss (Red Sourz)
8 ounces of boiling water
1 package of Grape Jello
---
AMARETTO SOUR
6 ounces (3/4 cup) of Amaretto
2 ounces of Lime bar mix (or sweet & sour mix)
8 ounces of boiling water
1 package of Lime Jello
---
TWIZZLERS
8 ounces (1 cup) of Peach Snapps
8 ounces of boiling water
1 package of Raspberry Jello
---
BERRY BERRY BLUE
8 ounces (1 cup) of Blue Curacao
8 ounces of boiling water
1 package of Berry Blue Jello
---
CHOCOLATE CHERRIES
4 ounces (1/2 cup) of white Creme de Cacao
4 ounces of vodka
8 ounces of boiling water
1 package of Cherry Jello
---
ALABAMA SLAMMERS
4 ounces (1/2 cup) of Southern Comfort
4 ounces of Amaretto
8 ounces of boiling water
1 package of Lemon Jello
---
LIQUID MARIJUANA
4 ounces (1/2 cup) of Melon Liquor
4 ounces of Banana Liquor
8 ounces of boiling water
1 package of Lime Jello
Also Check Out:
Comments